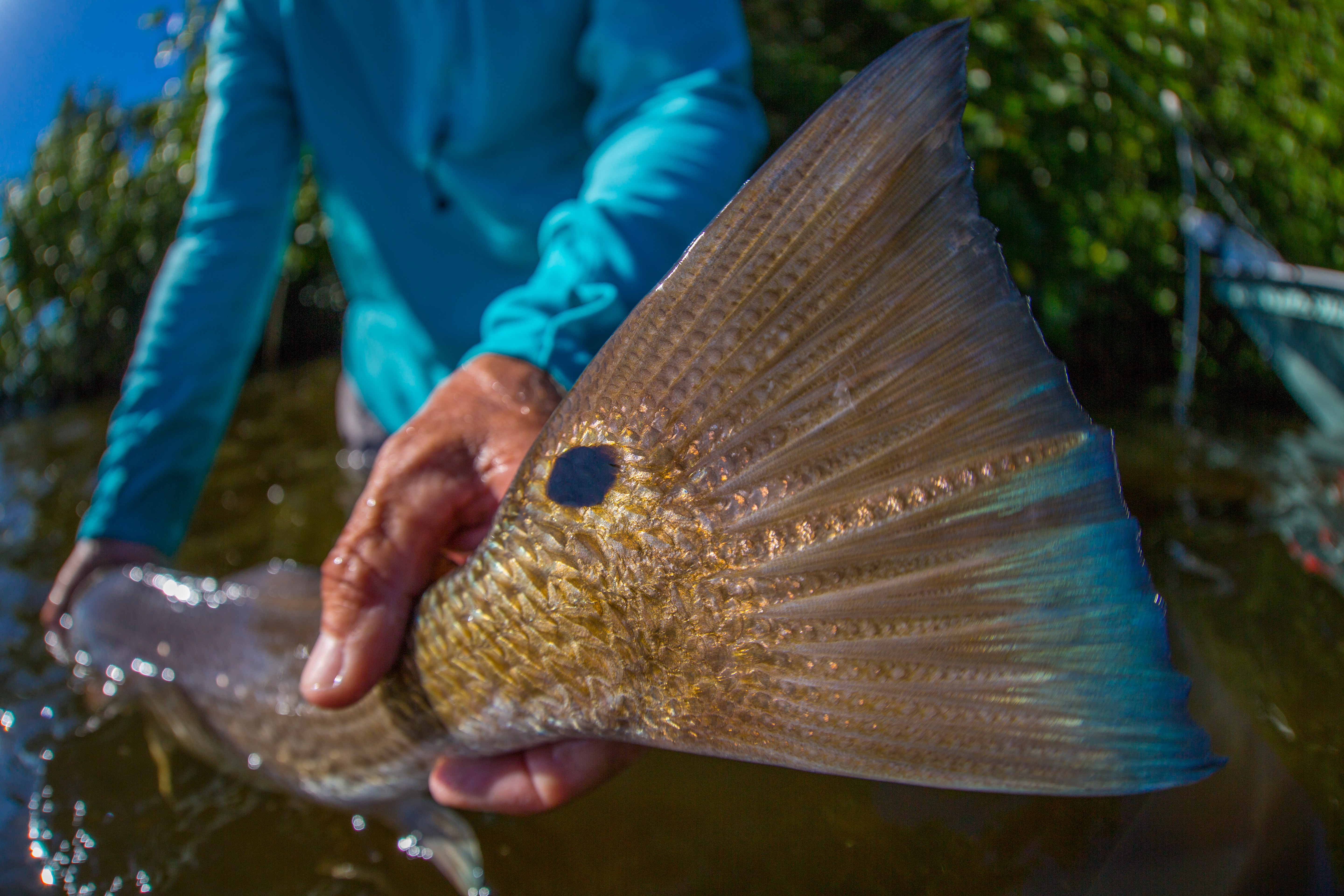 Redfish can be a very challenging species to catch. They are often in clear waters which makes angler stealth a premium trait. Tailing Redfish with the sun glistening off the tails is an experience every angler will covet. You are sure to get excited if it is your first time seeing this behavior.
BOCA GRANDE REDFISH FISHING
The Charlotte Harbor estuary provides some amazing grass flat fishing for Redfish. These fish will get up on the flats and feed. On lower tides the Redfish's tail will stick up out of the water as the root through the bottom in search of worms, crabs, shrimp, and baitfish. These "tailing" opportunities are coveted by saltwater fly fisherman. Throwing the fly just past the tailing Redfish and waiting until the tail goes down is the best way to get the fly seen. Often they will charge the fly because they are already in a feeding mood. Hooking up in this shallow water condition can make for an exciting first run as the Redfish tries to get to deeper water. You will get a rush from watching the Redfish hump water as it pushes its way off the flat.
When the Redfish are swimming a little deeper they can be tricky to spot. You can expect Capt. Leo's sharp eye sight to help you get dialed in on the fish. These deeper fish are often still probing the bottom for food. Scanning the edges of potholes and sandy bottoms help to locate them. Depending on the season and conditions you will use baitfish patterns or weighted crustacean fly patterns.
Bringing a Redfish to hand will give you the opportunity to appreciate all the beautiful colors they carry. Often the tail fin will have wonderful blues on the edge. You should be sure to take a moment an enjoy the accomplishment of catching one of these colorful fish.
REDFISH FLIES
Fly selection is another area of careful consideration. Capt. Leo has spent years developing and fine tuning the patterns he prefers for the Boca Grande area. His choice will take into consideration time of year, fish location in the estuary, water clarity, and light conditions. Fly fisherman are welcome to bring their own selection of flies. You should make your focus baitfish and crustaceans for this often bottom dwelling species. Use Capt. Leo's knowledge if you like to tie. He will gladly offer suggestions of patterns and color combinations that are effective in Boca Grande. He can also provide you direction on the best hooks and sizes for these fish.
WHAT TO BRING:
8 wt. fly rod is recommended for this fishing. Capt. Leo has rods available as well
Flies if you like. Capt. Leo will also have flies available. He will make recommendation on the best selection for the conditions
Polarized sunglasses with amber or yellow tint lenses are a must to sight fish
A good hat with a dark under brim to cut the glare
Sunscreen. Please no spray sun screens. It stains the deck as well as causes a slipping hazard
Lunch/Snacks if you like. Water will be provided.
Lightweight rain gear
Ready to book your SALTWATER FLY FISHING TRIP?
Drop us a line today and get your dates locked in!